hello and welcome to our delivery service!
General information
As you know 'We Love What We Do' and we are not going to change the way we do things, but with the world as it is at the moment we need to survive. As most of our 2020 bookings have now cancelled up to September, we have an awful lot of stock, so we are going to offer a delivery and takeaway service on a few of our items. We cannot say how long we will be offering this service for; it all depends on stock levels and replenishment.
You will have to bear with us with payment methods as we do want to invest in a state of the art system or partner up with any well known food ordering sites as this is not a long term project for us.
We thank you for your support.
COVID -19
We will of course be following all Corona Virus (Covid-19) Government advice, if you are self-isolating then please let us know and we can of course leave any paid items on your doorstep and call you from the van.
All staff are family and have been in Lock-Down with us, any food prepared/cooked will be in our stand-alone Pod, with gloves, aprons, masks and of course handwash facilities.
Delivery will be made with fresh gloves to each customer and 70% alcohol-based hand gel is provided in each van. Our driver will be wearing a custom-made mask for your protection.
Collection is available and the 2m social distancing applies, your goods will be left on a table for you to collect and the table thoroughly cleaned after each collection.
Allergy information
Read the FAQs below for more information about Sweet-a-Fayre's food allergy policies.
What if I have food allergy?
If you have food allergy, please contact us directly before you place your order.
How do we make sure the food allergy information provided is accurate and up to date?
We do not want to put anyone's health at risk so we recommend that you speak to us directly and we will provide you with the most accurate and up to date information about our food and the preparation of it.
How can I contact Sweet-a-Fayre directly?
Our contact details are 07790 467948, Email: [email protected]
Doesn't the law require all food businesses to provide information in regard to food allergies?
Please contact us directly for any information in regard to food allergies, it is our responsibility to provide this information to consumers.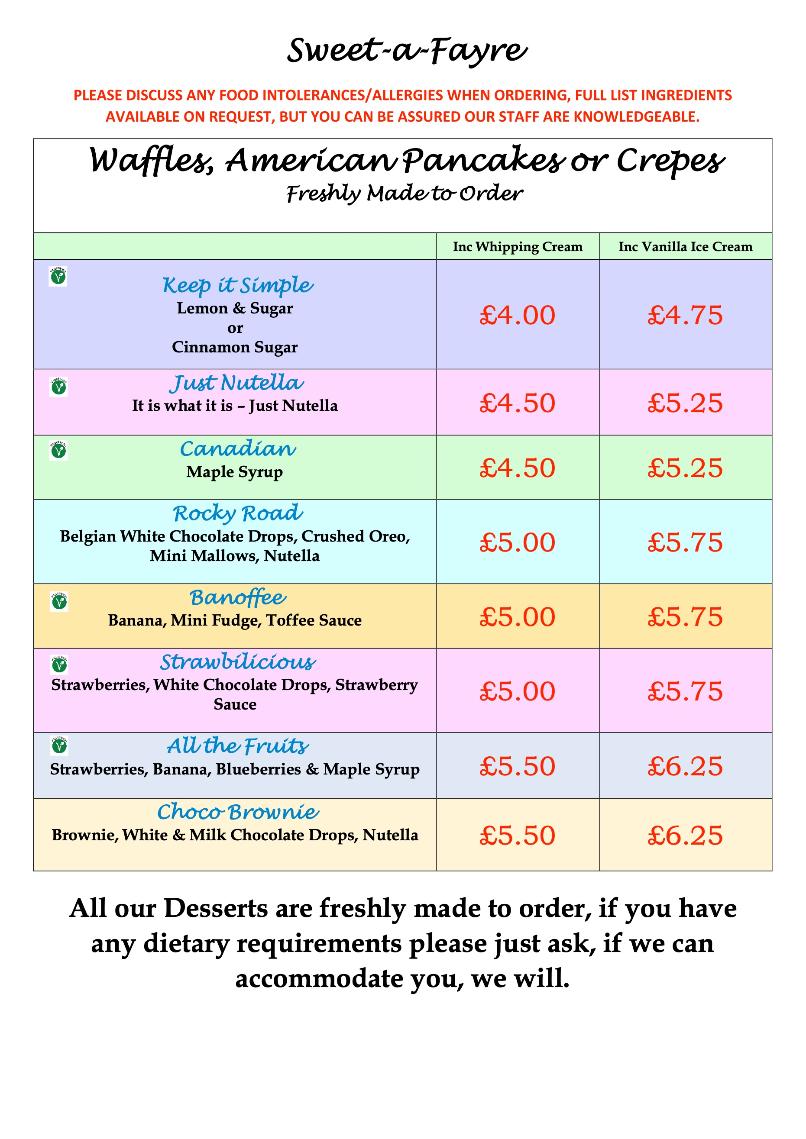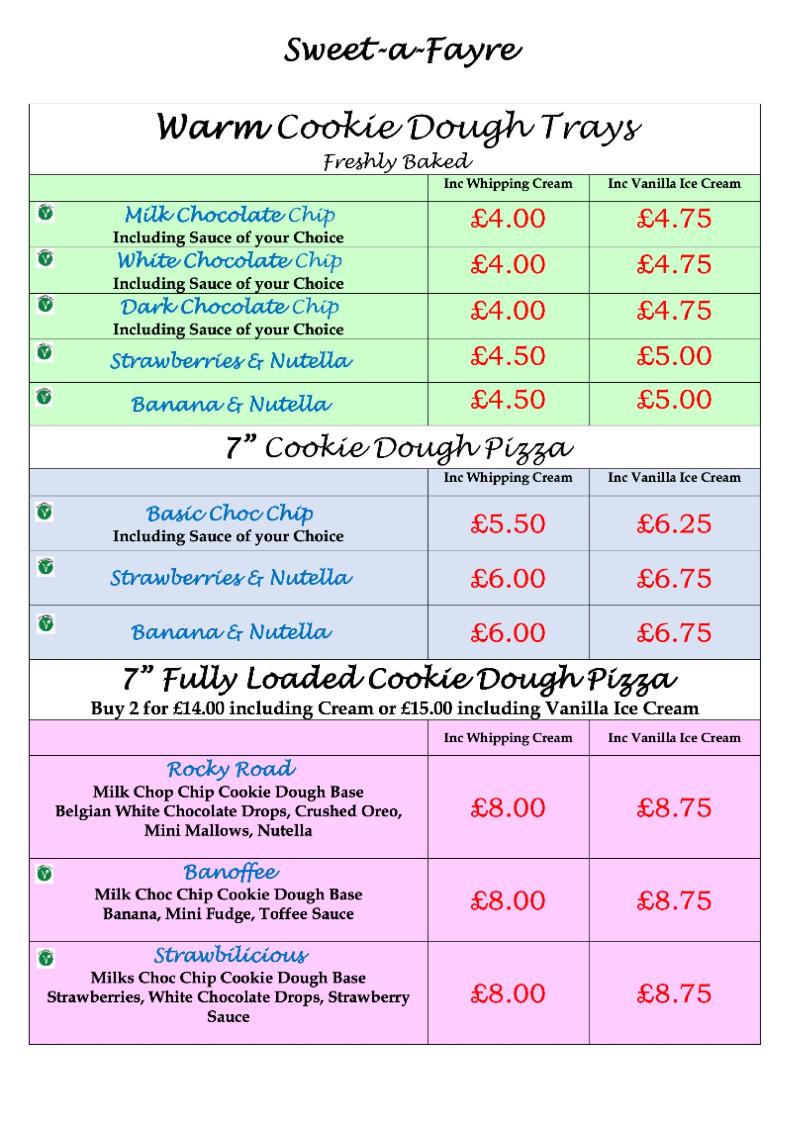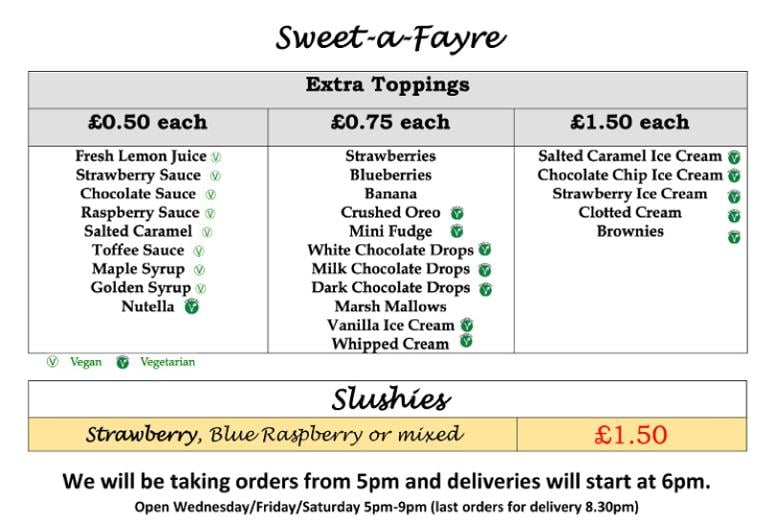 How to Order:
Call 07790 467948
Text or WhatsApp 07790 467948 (include your full order and name and address)
Facebook Message to www.facebook.com/sweetafayre
Facebook Message, Text & WhatsApp will be replied to with an approximate delivery time and your payment amount.
Unless paying by cash no orders will be delivered until full payment is received.
Delivery: From S43 1AJ
Minimum Order £10.00 for Delivery.
Free Delivery within 3 miles
£2.00 Delivery after 3 miles (maximum 6-mile radius)
Collection is Free – Social Distancing will be Applied
Payment:
PayPal – [email protected]
Bank Transfer – Sweet-a-fayre
Sort Code 20 20 50 Account Code 43173542
Contactless Card Payment is available on delivery/collection – Social Distancing Applies
Cash is acceptable if placed in a clear bag so delivery driver can check amount (correct money appreciated) and leave your goods without handling the cash directly wherever possible.

GDPR Privacy Policy | Terms & Conditions | Contact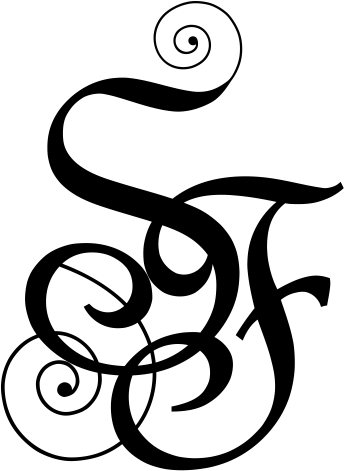 www.beckywoodwebdesign.co.uk
© Sweet-a-Fayre 2018